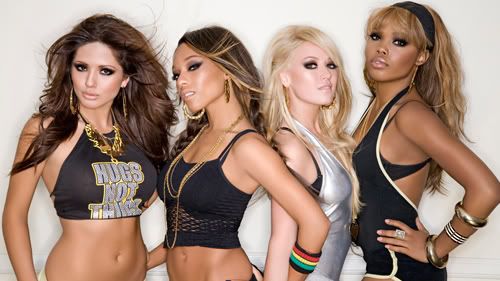 Girlicious, Robin Antin's trashy pop girlgroup, once a foursome, now down to three members (after member Tiffanie Anderson, far right, was kicked out for 'being too hood'), are planning a 'comeback' of sorts, after their debut album failed to make any impact in any country other than Canada.
According to member, Chrystina Sayers' (the blonde one)
official Twitter page
, their new single should be dropping this week, and they are currently finishing up on their sophomore album.
Their album will be released this February, stay tuned for more news.

---
I'm kinda excited! I loved most of their debut album, I'll admit, so I want to see this 'new direction' they're going for. I still think they're complete sell-outs and attention whores, but we'll see... It's the music that matters, right?